The best strawberry weed strains are some of the fruity weed strains in the cannabis world. All cannabis strains that belong to this category are true to their name. They smell like freshly-picked berries and have delicious flavors.
Marijuana users who like strawberries as fruit are often attracted to strawberry weed strains. The aroma and flavor profiles of these weed strains are unmatched. But what makes them smell and taste like strawberries?
Read on to find out what makes strawberry strains smell so. We will also include a list of the best strawberry cannabis strains.
What Makes Strawberry Cannabis Strains Smell So?
Strawberry strains of weeds have some of the most complex aroma and flavor profiles of all other weed strains. As the name suggests, you can expect a fresh berry scent from their buds and smoke as they burn. But what is responsible for that aroma and taste?
The best strawberry weed strains mostly have myrcene, pinene, caryophyllene, linalool, and other terpenes. Terpenes are chemical compounds produced by the cannabis plant, which give it the characteristic aroma and flavor. Loudest smelling strains produce more terpenes than others.
Myrcene is the same terpene you find in mangos, lemon grass, and hopes. It is responsible for the earthy, fruity, and musty fragrance and flavor of some of the best smelling weed strains. On the other hand, pinene terpenes cause pine, lime peels, and rosemary scents. Caryophyllene and linalool give you spicy and lavender fragrances.
These chemical compounds in a cannabis flower combine to give off a berry aroma and taste. But it should not catch you by surprise if you find other dominant terpenes in some weed strains. We have only mentioned strawberry cough terpenes, which you find in many other strawberry strains. Cannabis produces many different terpenes you can read about in our previous post.
Best Strawberry Strains of Weed
The list of strawberry marijuana strains is long, but we will narrow our discussion to the most popular ones. Most strawberry smelling weed strains on this list are available at any dispensary near you. Let us quickly highlight the best they offer you out of the bag!
Strawberry Cough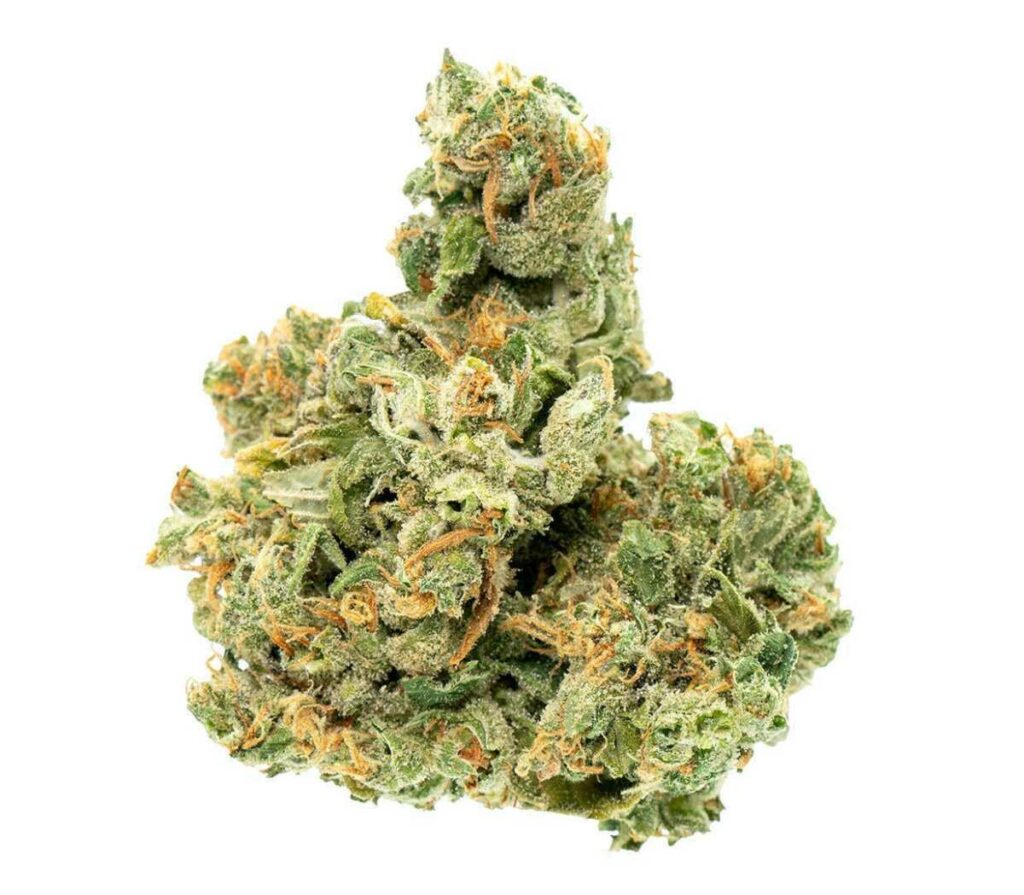 Strawberry Cough tops our list of the best strawberry tasting weed strains for the right reasons. It is the most popular of all strawberry cannabis strains. Fortunately, it is also available in any dispensary near you.
The origin of Strawberry Cough still remains a mystery. But we surely know the delicious smell and flavor of fresh strawberries it has. You will also experience a spicy scent and taste, which turns earthy and peppery on the exhale.
Strawberry Cough is a highly potent flower that can be considered a Strawberry Sativa created by crossing a classic Haze and Strawberry Fields. This heavily Sativa dominant strain is not for the faint-hearted. It is characterized by a spinning head-high and cerebral boost that makes you more energized and creative. It is the best choice for you if planning to go on an adventure or any social event. Medicinally, Strawberry Cough is for combating anxiety, mood swings, depression, and PTSD. Read our Strawberry Cough strain review to learn more about it.
Strawberry Diesel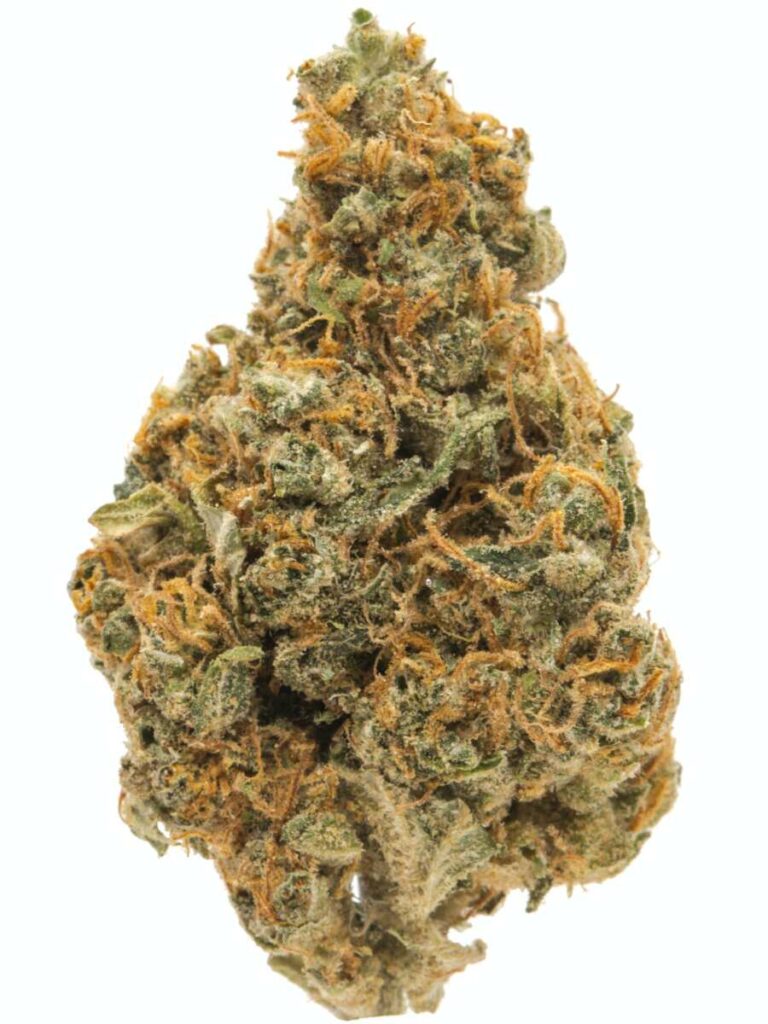 Strawberry Diesel is a balanced strawberry hybrid strain created by crossing the infamous Strawberry Cough and NYC Diesel. It is an equally potent flower rich in strawberry terpenes, as is evident from its aroma and flavor.
Strawberry Diesel is true to its name. This bud exudes the sweet fruity aroma of fresh berries and skunk undertones. It is also one of the best tasting strawberry cannabis strains. Its flavor profile is also dominated by sweet and fruity tastes, which can lure you into taking more.
This is one of the best strawberry cannabis strains with a balanced high that hits both body and mind. It gives you the best of both worlds, creating calming and clear-headed effects and a bit of euphoria and creativity. However, you should prepare for long-lasting uplifting effects. Due to those properties, Strawberry Diesel is an excellent remedy for anxiety, depression, nausea, pain, and stress.
Brian Berry Cough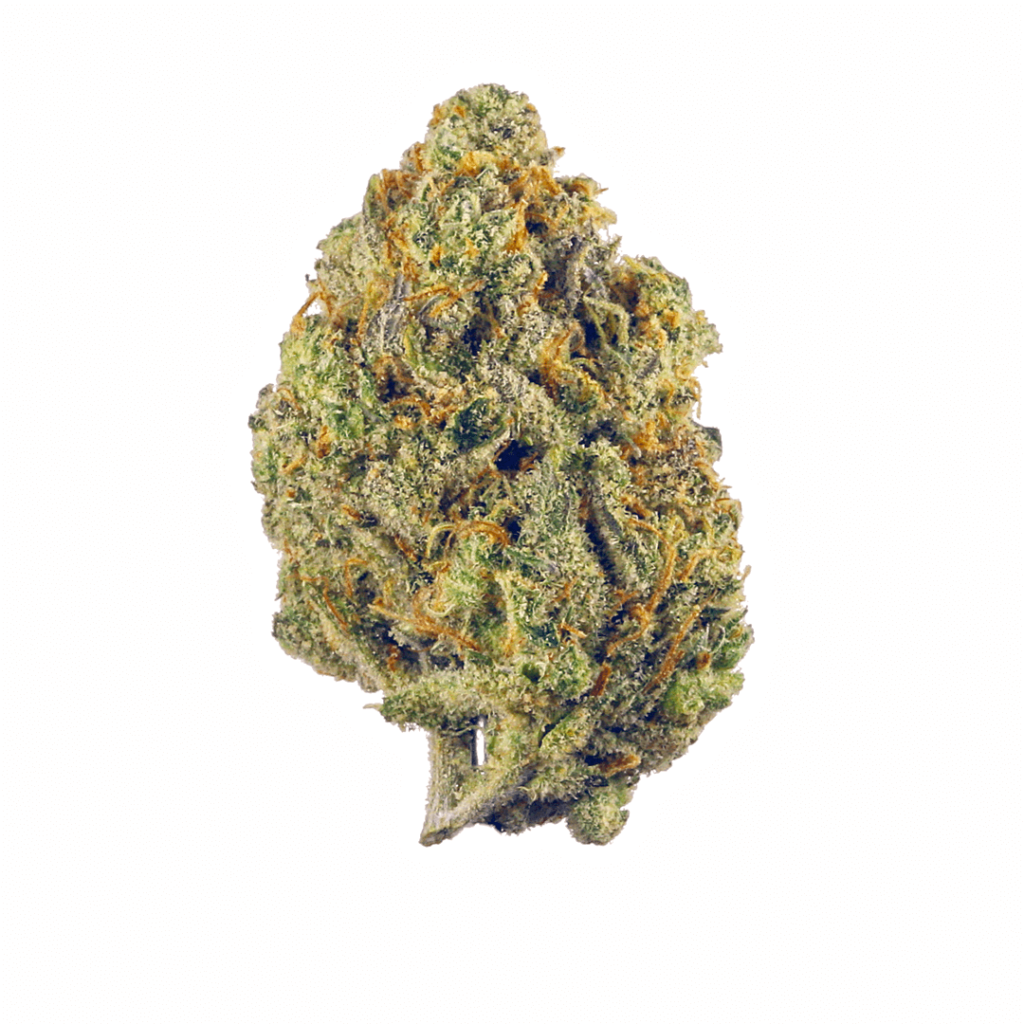 Brian Berry Cough is another well-balanced strawberry hybrid strain created by crossing the all-powerful Strawberry Cough and Space Queen. It is rightfully on this list because of the intense berry flavor that can make you addicted to it. Its other flavors include strawberry, candy, sweet, tropical, cheesy, and candy.
Brian Berry Cough creates a warming body buzz and an overwhelming cerebral burst. Novices are warned to take this strawberry hybrid strain with caution for the danger of an overdose. Its high slowly takes a toll on the body, sweeping away any pain and leaving you completely relaxed but not sleepy.
Brian Berry Cough is one of the best strawberry strains for fighting chronic conditions such as pain, anxiety, depression, arthritis, etc.
Best Strawberry Sativa Strains
Strawberry Kush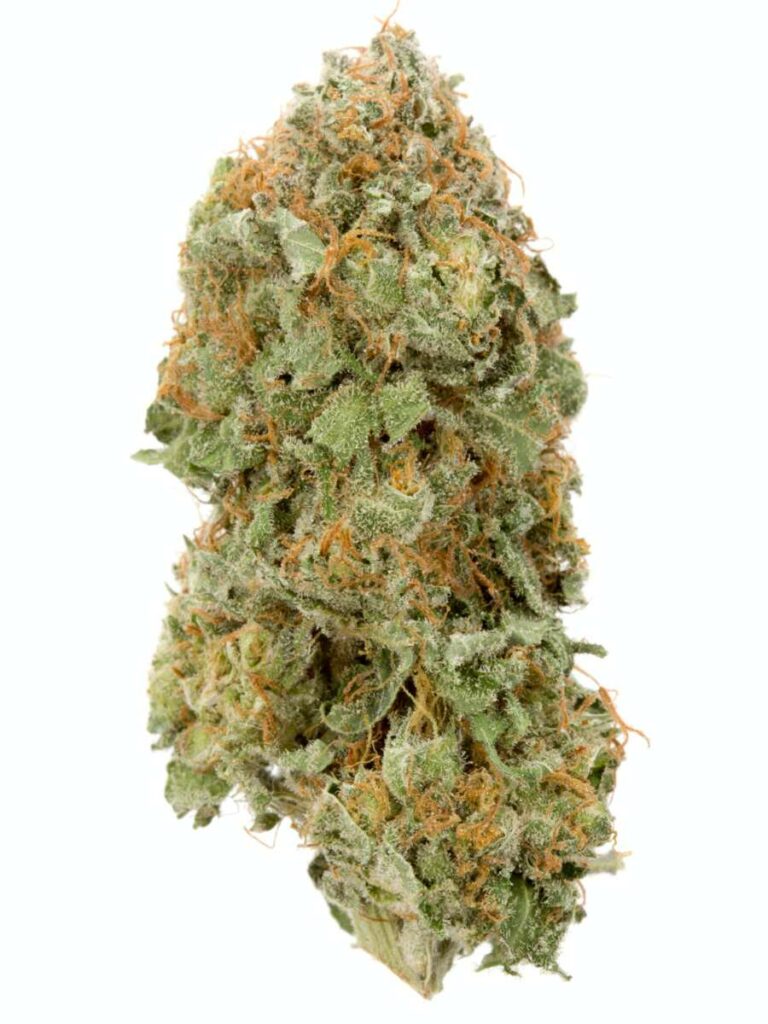 Strawberry Kush is one of the strawberry Sativa strains for Sativa lovers. Strawberry Kush is a potent strain with overwhelming effects attributed to its lineage (OG Kush and Strawberry Cough), making it one of the strains similar to strawberry cough.
This Sativa-dominant hybrid strawberry weed is sweet-scented and has a musty strawberry flavor. This clean flavor from a fruity combination gives a body buzz with cerebral stimulation that will still leave you alert. It is the best choice of all strawberry strains of weed on this list for daytime use. It will never make you drowsy. Instead, you can jump right into action after the final puff.
Strawberry Kush is used medicinally for appetite loss and alleviating symptoms of stress-related conditions.
Strawberry Ice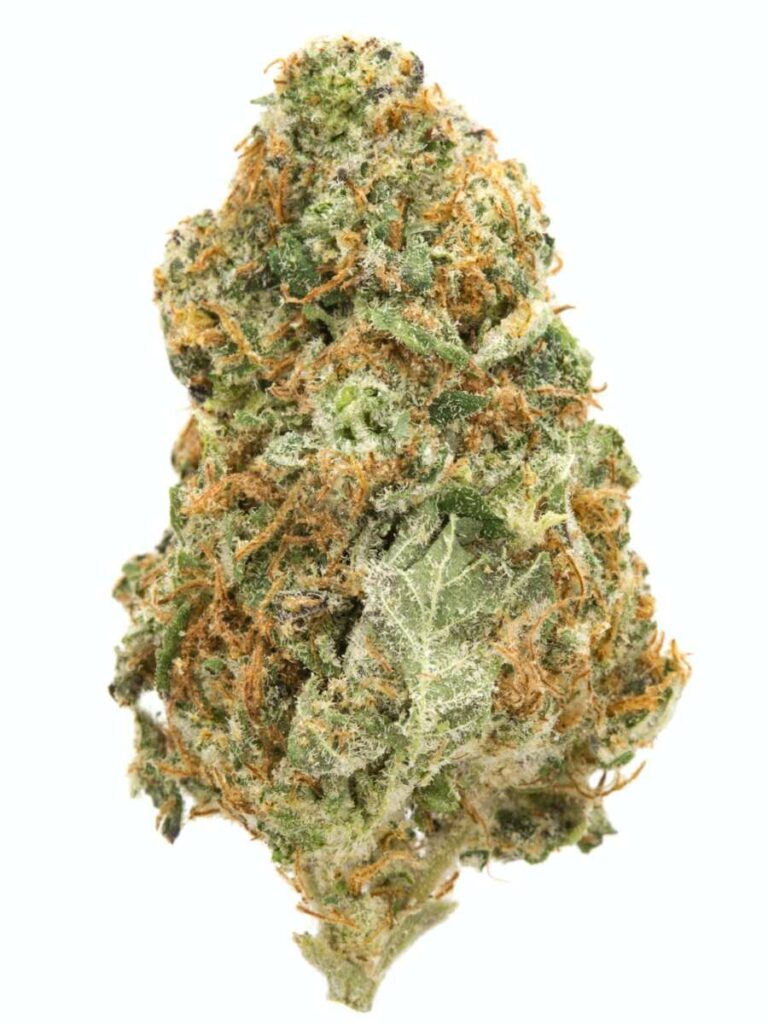 Strawberry Ice is the go-to strawberry strain if you like a sugary sweet strawberry flavor. It is packed with the most complex strawberry terpenes that give it a sweet and earthy aroma with strawberry overtones. There is also a hint of herbs and spices, making it one of the most delicious and aromatic strawberry marijuana.
The Strawberry Ice high is primarily cerebral and comes with a boost of energy that you need to face a challenging day ahead of you. The onset is energizing, followed by a rush of euphoria just a few minutes after using it. It will boost your focus and motivate you to get up and get something going.
The effects of Strawberry Ice are perfect for alleviating conditions such as fatigue, headache, migraines, depression, anxiety, etc.
Best Strawberry Indica Strains
Strawberry Mamba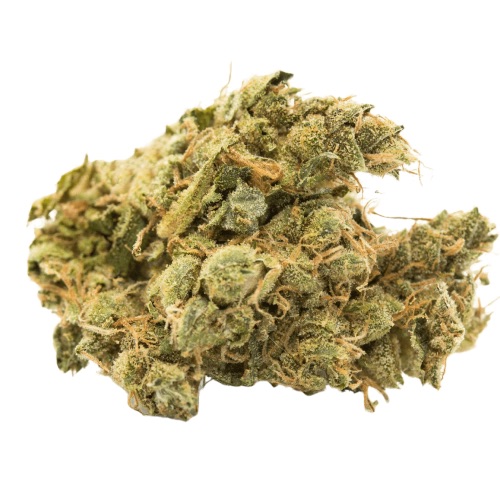 Strawberry Mamba is an Indica-leaning strawberry hybrid strain consisting of 70% Indica and 30% Sativa. This was created by crossing The Black 84 and Oink Dream. Despite the less famous background, Strawberry Mamba boasts of being one of the best strawberry weed strains. It is packed with a delicious aroma and flavor of strawberries and cream.
The Strawberry Mamba high starts with a tingly head high with enhanced creativity and dreamy haziness. That is quickly followed by high sedation as your mind settles into bliss. You will feel relaxed and maybe lulled into a deep sleep if you take high doses. As a result, Strawberry Mamba is used in treating insomnia, chronic fatigue and pain, depression, muscle spasms, and other medical conditions.
Strawberry Banana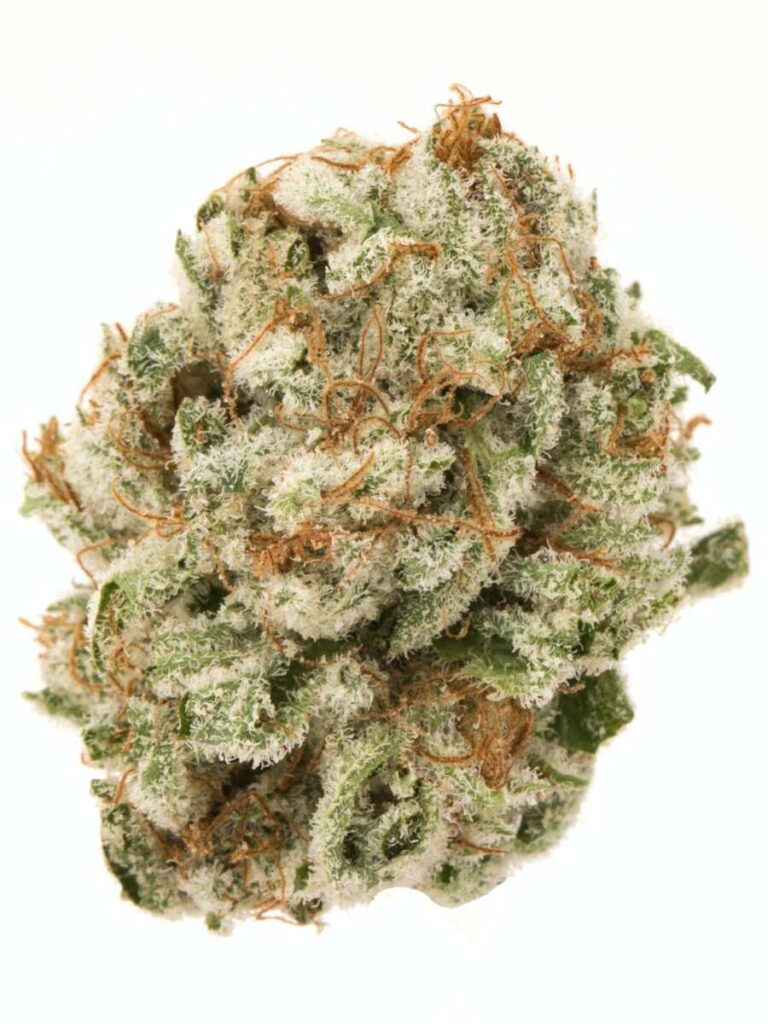 Strawberry Banana is one of the strawberry-flavored weed strains liked by both veteran and novice cannabis users. If you are looking for the best strawberry Indica strains, go for Strawberry Banana. It has an Indica to Sativa ratio of 70:30.
Strawberry Banana was created by Serious Seeds after crossing the Strawberry Bubblegum and Crocket's Banana Kush. That famous background yielded one of the best and most potent strawberry strains with sweet strawberry tropical flavor and aroma.
This strain's high kicks in with a mild head buzz which builds into a euphoric high and uplifting head high. It settles into a warm body buzz that can slam you into the couch for many hours. However, you will feel totally relaxed and at peace with occasional munchies.
Final Thoughts on Strawberry Flavored Weed
If you like the fresh strawberry flavor, strawberry strains are your favorite cannabis, no doubt about it. They are packed with sweet and delicious fragrances and flavors you mostly find in the fruity strains.
Strawberry Cough is the most famous strawberry strain of weed. It exudes an inviting aroma and gives a mouthwatering flavor, making it irresistible. Most cannabis users also prefer it for its energizing yet relaxing effects. However, any other strawberry marijuana on this list should give you that lovely taste of freshly picked wild berries. Also read our article about the best cherry weed strains.
Photo sources:
The Lodge Dispensary photo collection
https://weedmaps.com/