Stoners use cannabis and its related products for different reasons, some for medicinal purposes, while others for recreational. Whichever the case, you need to find the best way and form of consuming.
Over the years, concentrates and dabs have grown in popularity. Many marijuana users prefer these forms because of the benefits that come with them. As a result, there have been different concentrates and dabs in the market. If you are a resident of Denver or visiting the place for other reasons, then you can use the chance to enjoy the best Denver concentrate and dab deals.
In this article, we will talk about the Denver concentrate deals and dab prices. This information will help you make an informed decision when buying these cannabis products.
Dab Prices in Denver Colorado
A dab is a blanket name used to refer to cannabis products with a high THC content of up to 80%. The name came from the fact that you only need a small piece to get the powerful high effect you want. These products are produced by grinding the cannabis bud or through chemical extraction.
Dabs are THC concentrated versions of butane hash oil (BHO). They come in many forms and have been named differently. The dab prices also vary depending on the type of dab and the dispensary where you buy it. It is, therefore, beneficial to know the best dab deals.
Live Resin Prices
The live resin prices vary from one dispensary to the next depending on the quality and production method. Typically, you are expected to pay about $90 to $160 per 14 grams (1/2 oz) of the product. 14 grams of a live resin dab is equivalent to one-half of an ounce.
At any given time, you can only possess a total of one ounce (28 grams) of marijuana in Colorado. If all of it is to be live resin, expect to pay between $100 and $300. High-grade live rosin costs about $39.71 per gram in Denver, Colorado. This value might vary depending on where you are buying the product.
Weed Shatter Prices
Shatter is another type of dab that many stoners are interested in. Visiting Denver, Colorado, might give you a chance to enjoy your favorite with the best shatter deals. Shatter prices also vary widely but expect to pay about $90 for 8 grams.
At the Lodge Cannabis, the price of 1 gram of weed shatter is $15. To find an ounce shatter price, multiply this value by 28, resulting in $420 per ounce. But you can buy it at a cheaper price if you use our shatter deals.
Cannabis wax prices
Weed wax is one of the most popular marijuana concentrates today for both medicinal and recreational purposes. Many cannabis wax concentrates hit over 90% THC, an equivalent of about 20 joints.
Shatter dab and wax prices are almost the same in many dispensaries in Denver, Colorado. 1 gram of cannabis wax costs about $15 to $20. But again, you can expect the cannabis wax prices to be lower if you use Denver wax deals offered by the sellers.
Caviar weed prices
Caviar weed, also known as Moon rocks, is a high-end marijuana concentrate made by dipping the marijuana buds in hashish oil and then rolling in kief. The result is a highly potent product with a THC content of up to 91%. It can be smoked, dabbed, or vaped, whichever suits you.
Caviar weed prices are some of the most outrageous figures you will ever see as a stoner. Being a high-end marijuana product, expect to pay about cannabis caviar. An ounce goes for about $1,400 in Denver, Colorado. Fortunately, you can buy 1 gram of cannabis caviar at a dispensary for about $50-$60.
How much do THC Cartridges cost?
A cannabis TC cartridge is a type of distillate obtained by separating THC from other cannabinoids present in the marijuana bud. Most distillates are made from trimming, but high-end ones are made using nuggets and natural terpenes. But how much do THC Cartridges cost?
THC cartridges prices are influenced by the THC content. You can expect to spend about $15-$75 for a gram of this product. The prices are also influenced by the extraction method used. Using THC cartridge deals can make it cheaper, but that depends on the dispensary where you will buy it.
How much does a Gram of Hash cost?
Hash is cheaper than many other cannabis products. Many dispensaries sell it at $10-$40 per gram for water-based hash. Chemically extracted hash such as shatter, budder, wax, and BHO cost more. You will need about $20-$80, depending on the particular hash product and where you buy it from.
Best Concentrate Deals in Denver at The Lodge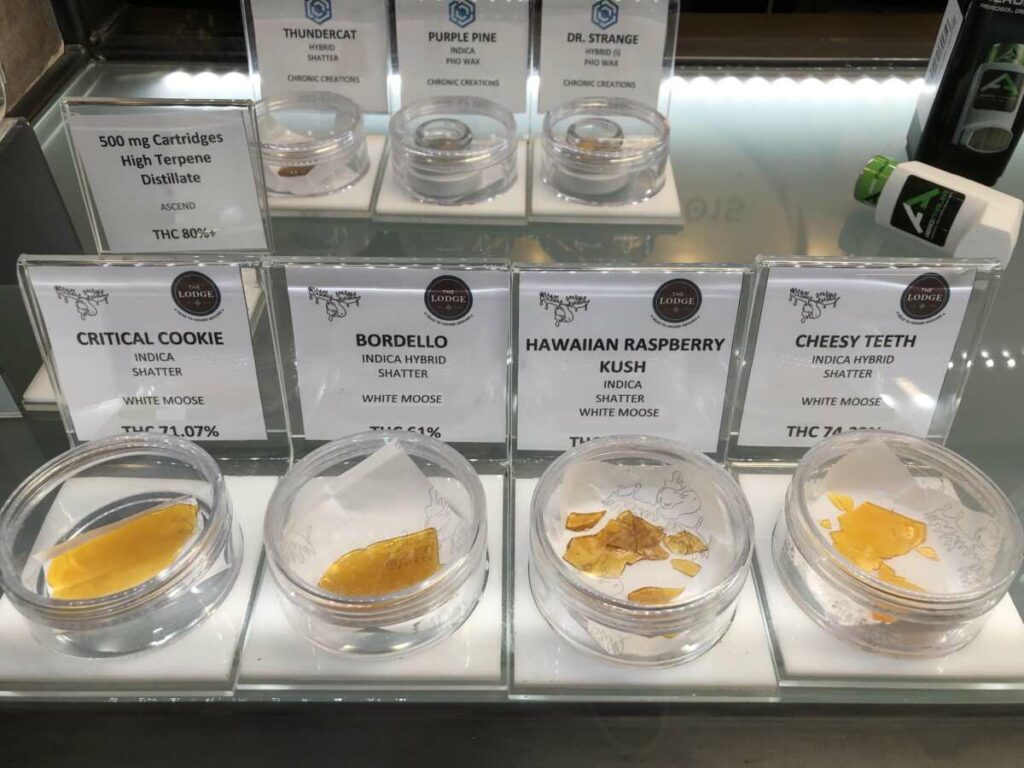 The Lodge has the best Denver concentrate deals for over 25 different concentrate brands. Using coupons and discounts, you can buy your favorite brand at the dispensary for the best dab prices in Denver. Visit us today for any of the following concentrates and dabs:
Shatter, wax and sugar wax, sauce and badder;
Live resin and rosin, persy rosin, live diamonds;
Bubble hash and water hash;
Cannabis oil vape cartridges, live resin cartridges, and pods;
Kaviar or moon rocks;
Infused joins: bubble joints and blunts, live resin premium cannagars, caviar infused moonrock joints, rosin sticks;
Dab tabs, etc.
We also have daily deals you can take advantage of to buy even the products that seem expensive. You can view the all deals at The Lodge, but the following are the highlights:
Monday Concentrates deal:
*Monday daily deal: 20% Off All Concentrate.
Live Resin deals:
*Coupon on Apothecary farms Live Resin 8 gr for $199;
*Monday and Tuesday daily deals: Coupon on Live Resin from Green Dot for 2 for $70.
Wax and Shatter deals:
*Coupon on Champagne Wax or Shatter 8 grams for $90, 4 gr for $50, 1 gr for $15.
THC Cartridge deals:
*Friday daily deal: 15% Off All Vape Products.
Premium Cannagars with Live Resin by Xiaolin deals:
*6 Gram Premium Capo Cannagar with 5 gram of Top Shelf Mandarin cookies flower and 1 gram Orange Kush Live Resin by Xiaolin for $130.00;
*2 Gram Connoisseur Quality Flower + 1/2 Gram of Connoisseur Quality Live Resin by for $55.00.
Cheapest Wax and Shatter in Denver at the Lodge
At The Lodge, you will find the cheapest concentrates in Denver of guaranteed high quality. We sell all cannabis products to Colorado residents and visitors, but according to the cannabis legalization laws. We invite you to check out our Barnum or Rino District menus and choose your preferred brand. You can also visit the dispensary stores to pick your product at the best price.