It has been a few years since the Canadian government legalized the use of marijuana for both medical and recreational purposes. However, the rules comply while you are in Canada. If you're flying to another country, you can't bring any of your favorite weed along.
As long as you're flying within Canada's borders, you can carry up to 30 grams of weed along. Of course, you have to be over 18, but even so, you might find yourself in an unpleasant situation. While you can simply go to the Just Cannabis Marijuana Dispensary before a flight, make sure that your supplies fit with the local laws. Stay with us, and we'll explain everything in more detail.
Legal age varies between provinces.
Unlike the US, where every state has the same laws and age limits for using marijuana legally, Canada took a different approach. Every individual province and territory has its own age limit for using marijuana legally. For example, the legal age across most provinces and territories is 19, except Quebec and Alberta, where you can buy weed legally after you turn 18. That's why you must make sure that you meet the legal age in the province you're leaving as well as the one you're landing in.
So, let's say that you're 18 years old, meeting the legal age requirements in Calgary and that you're planning a trip to Vancouver to visit a friend. You decide to bring your stash along, but you can't land in BC, as the legal age for carrying weed there is 19. Quebec is considering raising the age limit to 21, which means that you would be breaking the law by landing in Montreal. The same thing goes for cannabis concentrates and other products made from the plant.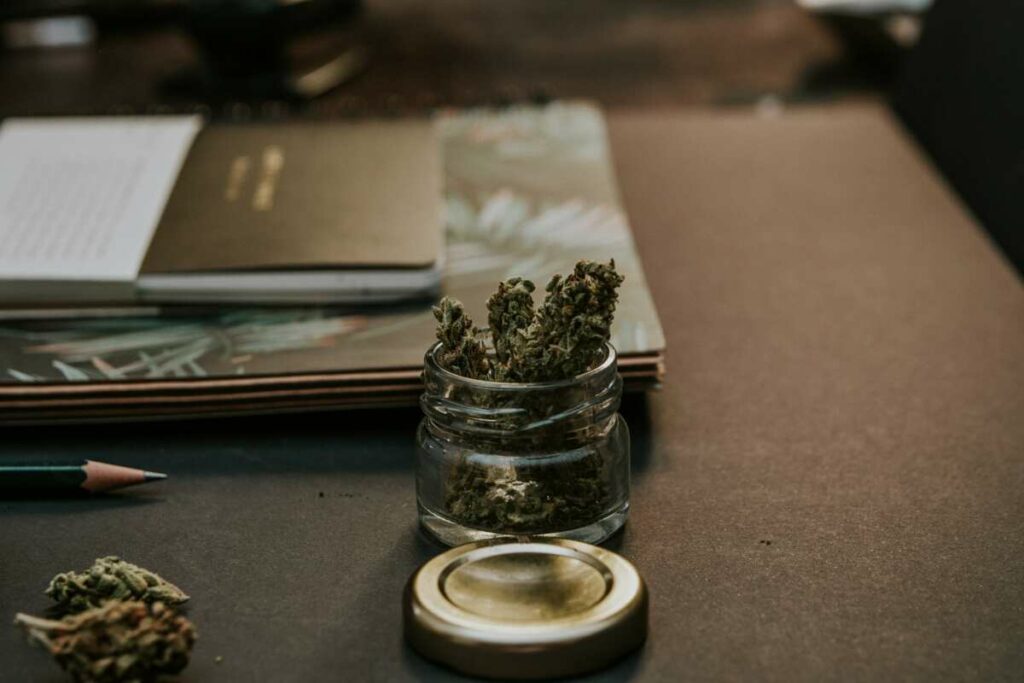 Is it possible to bring your supplies along if you're flying to the US?
While it seems logical that you can bring your own stash to a US state where recreational use is legal, bringing marijuana across the border is absolutely forbidden. The current US federal law prohibits cannabis possession in all forms. That means that you can't bring any weed along even if you're flying directly to Colorado or California, where cannabis has been legal for years. Breaking the federal law will have dire consequences, including jail time.
Moreover, if you admit that you use cannabis regularly when you land in the US could result in a denied entry. In other words, it's a bad idea to bring your own cannabis along if you're about to leave Canada. In that case, age doesn't matter. Canada's border rules have stayed the same, even though marijuana became legal within the country. That's why you should always avoid traveling with weed if going outside of Canada.
How about domestic flights?
While you can bring up to 30 grams of weed along, right now, edibles, cannabis concentrates, and other cannabis products are not allowed. The Canadian federal department in charge of regulating cannabis is still developing laws and regulations regarding edibles and other cannabis products, which is why you still can't bring any along on a flight. So far, you can only carry dried plants and oils.
The current restriction on cannabis oil is 100ml, so make sure that you don't have more than that as you might be fined or detained at the airport.
What happens if my flight gets re-routed?
A plane flying to another Canadian city might have to land at the closest US airport due to malfunction or bad weather in some rare cases. If that happens and you have a stash of weed with you, you will have to take responsibility for bringing marijuana along. That can include paying for a fine and even a ticket back to Canada.
So, even if it's legal to travel across Canada with up to 30 grams of weed, you never know what could go wrong. If you can, it's always better to leave your stash at home and buy some more weed when you land. You just don't want to risk paying a fine or being banned from a flight or a bus ride due to too much weed in your possession.
Final Words
As you can see, while traveling with weed across Canada largely depends on the local laws set by every province, the maximum amount of weed you can bring along is 30 grams. However, if you're traveling outside of Canada, all cannabis products are considered illegal.
When it comes to edibles and other cannabis products, they are currently illegal to bring along when you travel across the country. However, with new rules and regulations in development, we expect to see edibles, concentrates, and other products become legal when traveling. Until that happens, we advise you to leave all of your cannabis products at home before hitting the road.