In this article, we are going to introduce you to the 6 best edibles currently on the market, along with the occasions they're perfect for. By the end, you will know exactly which edibles are right for you and when you should pull each out, from the weekends to the holidays and all the time in between. Also, read our article on the difference between Indica and Sativa edibles.
More than ever before, the best marijuana edibles are enjoyable not only because of the cannabis baked into them but because they are delicious in their own right.
Top cannabis industry professionals have devoted themselves to creating marijuana edibles that will delight any palate, sure to leave you craving more – just as soon as you come back down. Just as there are certain beverages that are best for every situation and occasion, though, there are certain weed desserts that are best too.
There are so many THC edibles out there, in fact, that it helps to categorize the top ones according to the times of the year and even the times of the week that they will fit your life best.
Once you have chosen the sweet edibles that are suitable for every occasion, you can always show up prepared, knowing that you have figured out what is going to add to the fun and how you can complement your good times with a little something tasty for yourself and all of your friends.
At a glance, it may seem like there are so many wonderful cannabis edibles and THC edibles on the market that it is impossible to sift through them all and figure out which ones match your tastes and preferences. While you should try all of the recreational edibles you can find and see which ones you like, that takes time.
To save you some of that effort, for now at least, we at The Lodge have gone to the trouble for you, creating a list of the 6 best edibles and the occasions they're perfect for. Remember that you can always drop in and visit us at The Lodge as well, browsing our extensive collection and seeing what pops out at you.
1. Dried Fruit – Best Edibles for a Night or Day Watching TV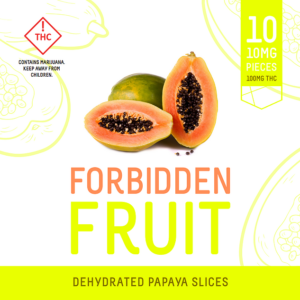 When you are lounging around on your couch and taking it easy, you want something that is going to nourish your body and mind, getting you ready to hop back into your life. We all take a rest day from time to time, turning on the TV and binge-watching whatever comes up.
The longer we can sit still, we tell ourselves, the more rejuvenated we are going to be.
The best addition to this type of night or day? You need some dried fruit for yourself. Some of the best edibles contain no added sugar, simply combining all of the natural sweetness of fruit with all of the dank sweetness of great cannabis.
At The Lodge, we stock Dried Fruit by Forbidden Fruit, and we can always vouch that these recreational edibles are as wholesome as they are powerful.
2. Crispies – Best Edibles for a Party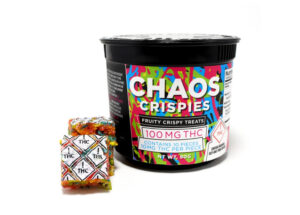 There is always a different dynamic when you head out to a party. Whether you are playing host or simply showing up as a guest, you want to know that you are getting the atmosphere and the vibe exactly right.
All of the people around you, the energy flowing between you, you want to feel sure that everything feels like a party. Nothing gets the party feeling right like a fistful crunching, snapping crispies. You chow down on them, picking them up in bunches in your hand, and there is no doubt that they are party snacks.
Crispies have become popular THC edibles because they fit the upbeat, party atmosphere so well. For the best weed edible crispies, you need to try Crispies/Baked Goods by Chaos, which are currently available at The Lodge.
3. Candies – Best Edibles for Game Night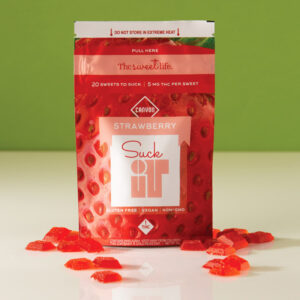 Game night is one of the classic excuses to get together with all of your best buddies. You can whip out a new board game or one of the ones that you have played over and over. What matters is that you are seated around the table with each other, telling stories and cracking jokes and snacking down on some tasty recreational edibles. For a game night, though, which edibles are you going to get?
While there are many suitable options for game night, candies are the best edibles because of how sweet and relaxed they are. There is no doubt that you are letting go of all your worries and cares when you are munching on candies, especially the Candies by Canyon Cultivation that we have to offer at The Lodge.
4. Cookies – Best Edibles for a Lazy Sunday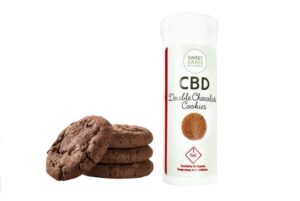 One of the all-time crowd-favorite best marijuana edibles, cookies are popular for a reason: they warm the heart at the same time that they are pleasing the tastebuds.
Whether you are eating one or a whole bag of them, a bunch of little cookies or one big one, they seem to call to mind some of our most cherished memories – which is especially true if you are talking about cookies that are also cannabis edibles.
Lazy Sunday, that day when there is nothing on your schedule and only taking-it-easy on your mind, is the right occasion for your best THC edible cookies.
At The Lodge, we have stocked up on Cookies by Sweet Grass. Just make sure that you stop in on Sunday before you get the festivities started, as we offer a special one-day discount on edibles!
5. Chews & Gummies – Best Edibles for Sunday Funday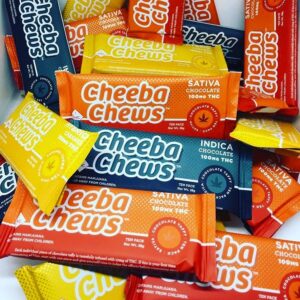 Sharing them or holding them down for yourself, chews and gummies are the right choices among the best edibles if you are planning a Sunday Funday. Whether you are heading to the lake or hanging out in someone's living room, you can make yourself the start of the afternoon by passing around THC edibles that are fun to chomp on and always sweet.
We have ordered in Chews by Cheeba Chews at The Lodge. On top of that, we offer Gummies by Cheeba Chews, Taste Buz, and Wana. Some of the best cannabis edibles that you are going to find, these are outstanding choices, easy to share and easy to appreciate, just the lighthearted addition you need to make your Sunday Funday stand out.
6. Chocolate – Best Edibles for the Holidays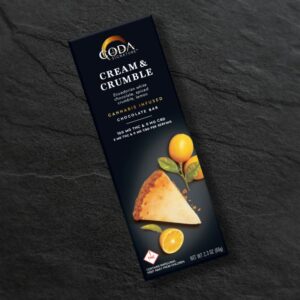 As the holidays are approaching, you may find yourself wondering: which cannabis edibles would make the best gifts or the best additions to the festivities? You may have tried some of the top weed desserts out there, from cookies to cakes to gummies, but you want something a little more cheerful when you are getting ready for the biggest days of the year.
Chocolate is, as it has always been, the right choice for these special occasions. At The Lodge, we stock Chocolate by Coda Signature, presenting cannabis edibles that make wonderful presents to yourself and to others, whether you wrap them and put a bow on them or not.
Get Something Sweet and Delicious for Yourself
At The Lodge, we pride ourselves on our extensive selection of cannabis edibles, stocking the best THC edibles that you are going to find. Make sure that you check out our menus, and visit often to see all of the fine additions that we are constantly making. You can also read about our latest deals.
For a special discount on edibles, check in with us on Sundays while you're at it.