Tastes are changing, and now many customers are refusing sugar drinks. Manufacturers see new opportunities in cannabis: as it is legalized in different states, Americans are looking for new ways to use it and are ready to try coffee, beer, and wine with cannabis. The country is preparing for the weed revolution: businessmen are opening up companies producing marijuana products and talking about the miraculous effects it has on the human body.
"Drinks are the best form of packaged products with tremendous growth prospects," says Eric Knutson, CEO of Keef Brands, who attended the BevNet Drinking Industry Conference, – "I think hemp drinks are a new soda.".
According to Bloomberg, soda sales reached low in 2019 as consumers switched to healthier beverages. And cannabis drink sales are at their peak today: in 2018, the market was valued at $36 million in Colorado, California, Washington, DC, and Oregon. Just in Colorado, sales of such drinks increased by 11% compared to 2017, according to BDS Analytics.
What kind of drinks are we talking about?
"Manufacturers have already tried to add cannabis wherever you can – from wine to cold-brew coffee. I believe this drinking segment will eventually become one of the largest in the food industry," says Kathy Knutson, Ph.D., PCQI. Food and Cannabis Project Manager, PCQI Lead Instructor, Independent Contractor and Consultant. Let's look at specific examples of the drinks we're talking about.
Canyon coffee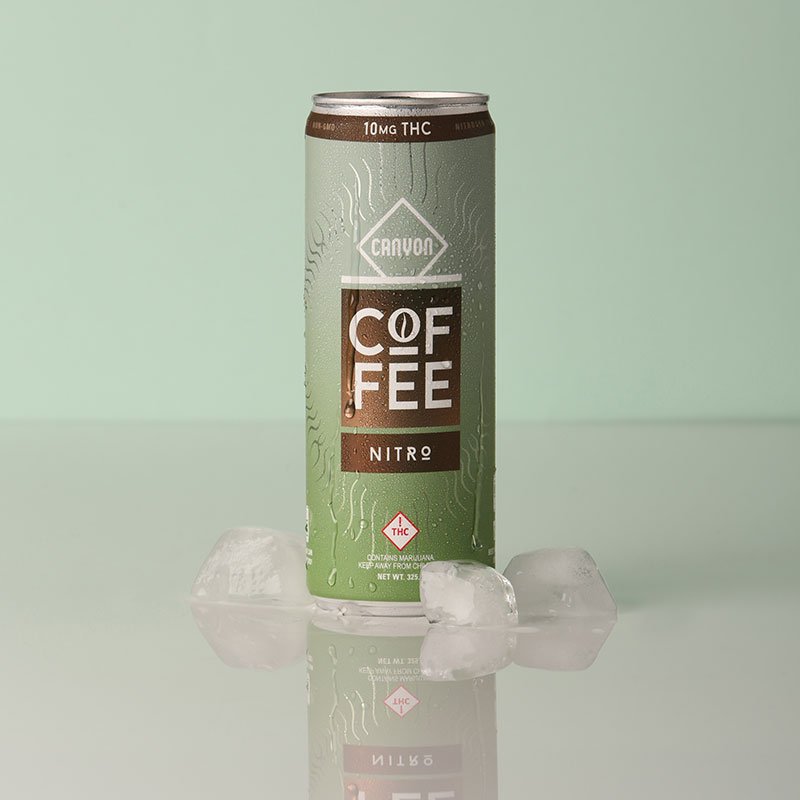 A can, which will not leave anyone indifferent to its design. Canyon coffee products are known for their wonderful aroma and excellent taste qualities. The content of THC in one portion is 10mg. An informative conversation with your mate and a pleasant pastime are guaranteed after drinking nitro coffee.
Clockwork CBD 1:1 Coffee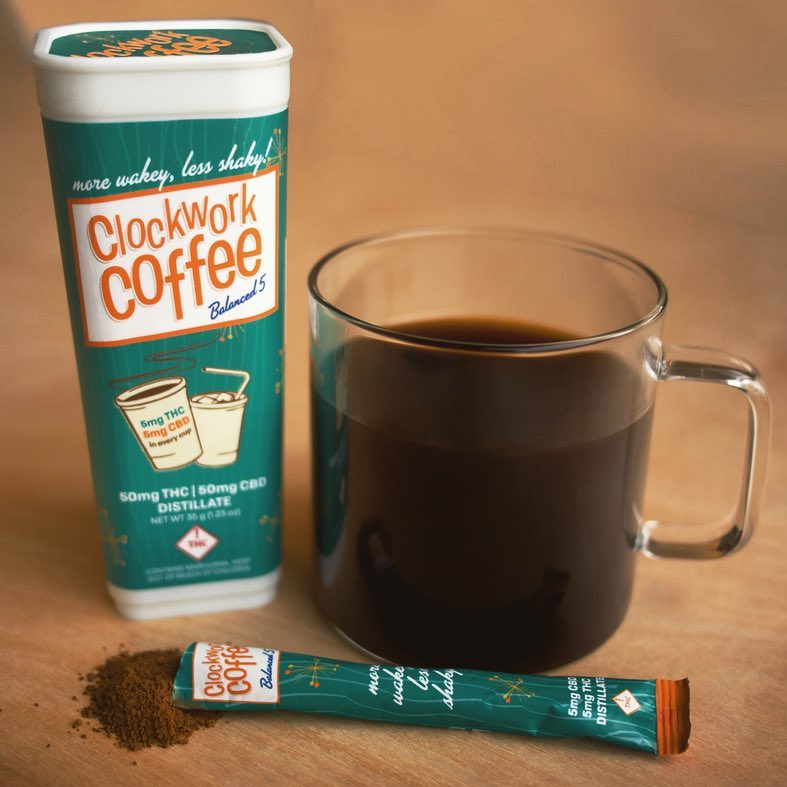 Unlike cold-brew coffee in cans, that one will not take up much space in your bag. The content is packed in portions and looks like instant coffee. The method of preparation is the same: brew in boiling water and let it cool down. The effect will surprise you, because coffee usually excites you, but here you relax and rest, covering your eyes with a nice smile on your face. The manufacturer describes the taste in a way: "It's just bold, smooth, 100 percent Colombian coffee with a Ripple kick."
It is a nice addition that this drink does not contain sugar, fat or calories, without affecting the taste. Have double pleasure when you lose weight!
Keef Classic Original Cola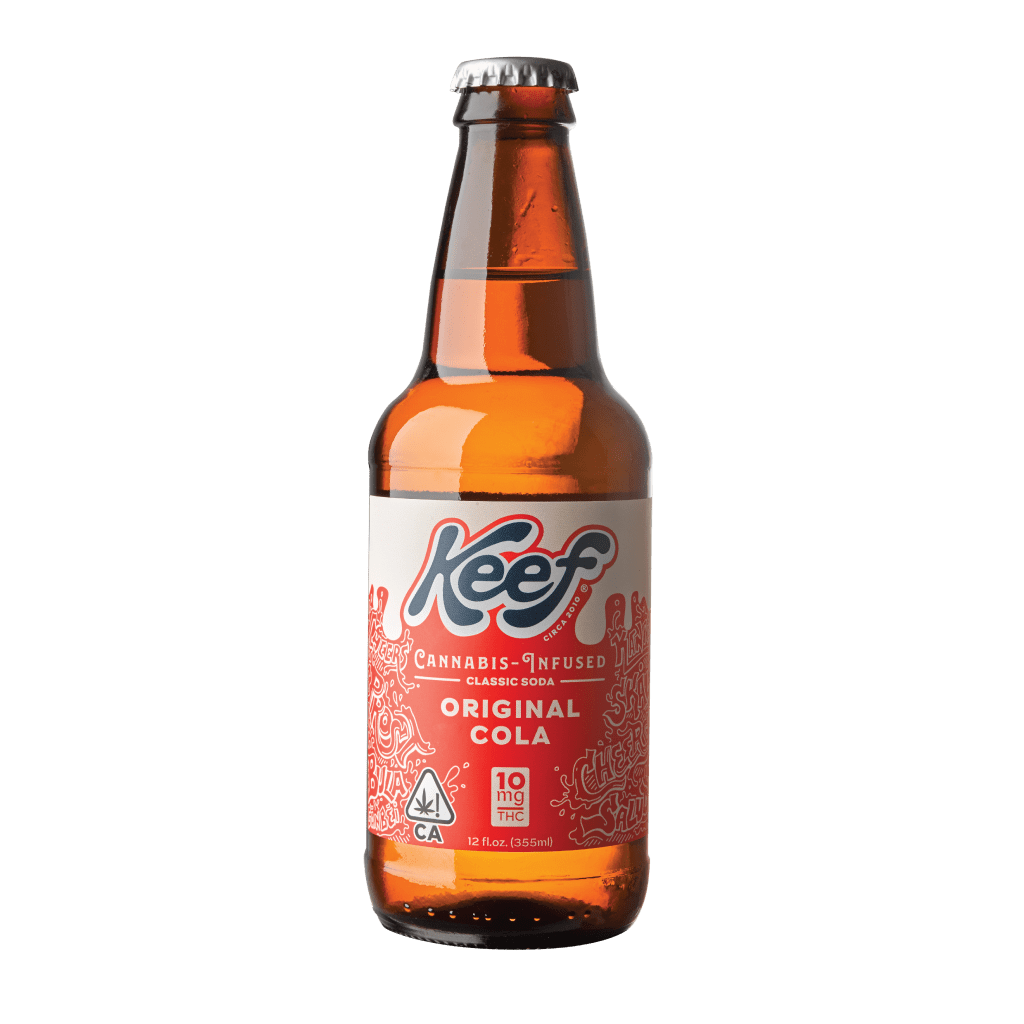 Cola hasn't left anyone indifferent yet. That's why Keef took the best of this drink to prepare Keef Classic Original Cola for you. This drink follows the tradition by bringing in new ingredients. Soda is mixed with 10mg THC, which has disappointed no one else. Only pure CO2 and oil are used in the beverage, which allows you to keep the bottle on the shelf for a long time. It can only be enjoyed in recreational markets, so it is a great excuse to take a walk with your friend to the nearest one. It is worth mentioning that Keef is the most award-winning company in the world for this particular drink, so it would be inconsiderate of you not to try it.
Keef Classic Bubba Kush Root Beer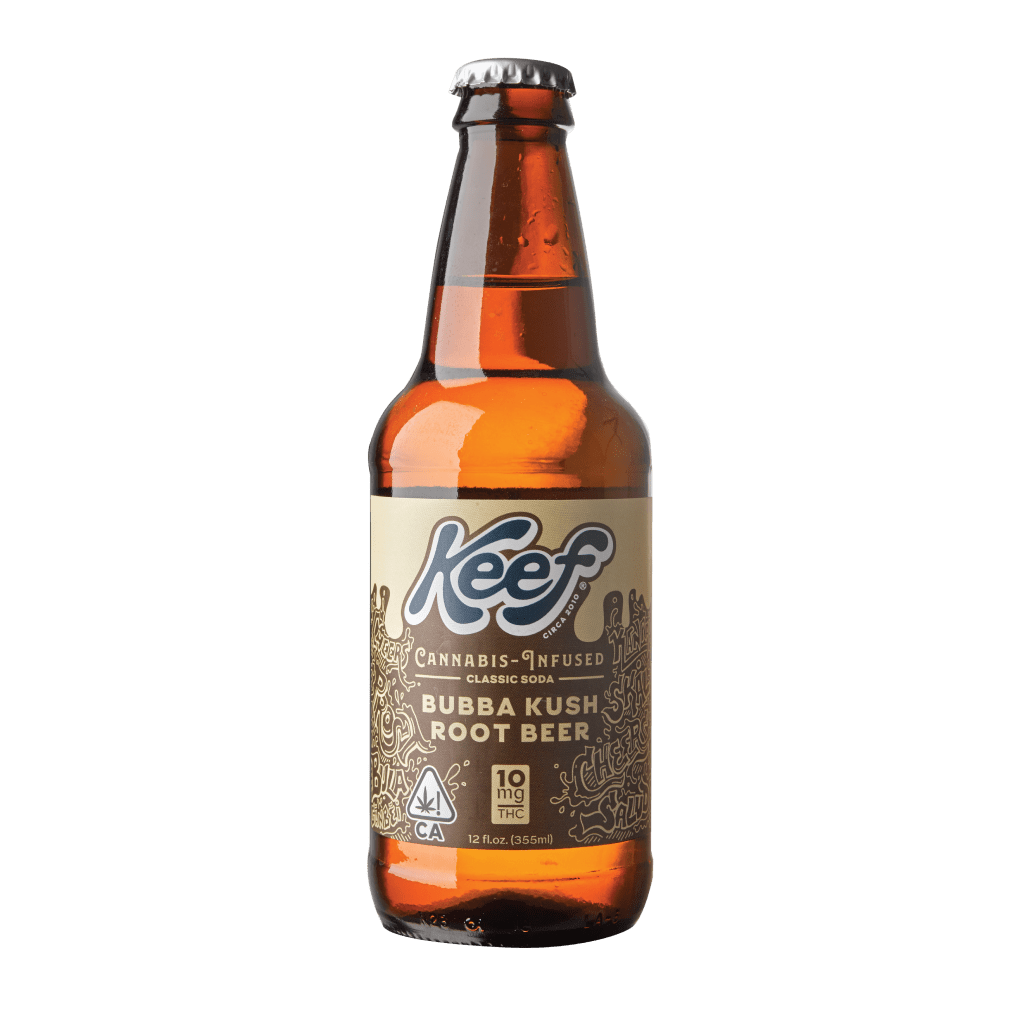 Oh, here's something out of the ordinary! The Keef Classic Bubba Kush Root Beer is the right choice for beer lovers. This combination of tastes has earned the award: Winner of the 2015 High Times Cannabis Cup for Best Edible. Taste a new flavor that will surprise you, and the lovely 10mg of THC will bring colors to your daily routine.
The variety of drinks is really amazing. They're all worth a try at least once, but I doubt you'll make it, because there are more and more of them produced every day. Let's figure out how to choose drinks by CBD and THC content.
What is the effect?
Lauren Rudick, a cannabis specialist at Hiller Law Firm, visited the BevNet forum with Knutson and said than THC (tetrahydrocannabinol), which is in charge of the effect of marijuana, will be a new vitamin. "It's an ideal health product and soon there will be a lot of food and drinks containing it," Rudick says of the anti-inflammatory, pain-relieving, and other positive effects of cannabis-containing products. Knutson said he is currently working with major marijuana manufacturers to develop THC-based drinks for the mass market.
The beverage giants are already preparing for massive cannabis madness. In the previous year, Constellation Brands, which produces Corona, Svedka, and other alcoholic beverages, bought a 10% share of Canadian weed producer Canopy Growth for $191 million and plans to develop THC-containing beverages. In March, MillerCoors' chief brewer Blue Moon revealed that it was quitting the company and launching Ceria Beverages, a producer of non-alcoholic beer with weed.
Stuart Dimson, another BevNet member and creator of Doctor D's probiotic sparkling drink, claims he is also thinking of joining the industry. "The CBD is playing on the field of a healthy and probiotic-consuming public," says Dimson, whose goods are sold in thousand stores across the United States. – The CBD is a real cure; it's a new and relevant ingredient.
According to Bloomberg, the American company Coca-Cola also plans to produce soft drinks based on marijuana. At the moment Coca-Cola is negotiating with Canadian marijuana manufacturer Aurora Cannabis Inc. However, specific decisions have yet to be made.
The beverage is expected to use cannabidiol (CBD), one of the substances in the cannabis group that has no psychoactive effect, unlike the other substance contained in cannabis, tetrahydrocannabinol (THC). So, now you will know, what you need, when looking at CBD and THC containing products.
Is it legal?
You can see that there is a great number of states, where weed is legal. But, in the U.S. it is now forbidden to transport cannabis from state to state (when crossing the border there is a federal law, under which the weed is illegal), there is a lack of experts in the field of regulation and obtaining the right licenses. Marijuana is still a risky market for investors. Banks do not open accounts for companies in this area, and shops selling weed have to work only for cash, which again can not be deposited in the bank account.
Nevertheless, the cannabis market is one of the few that can bring the desired growth of companies 10-20 times in a few years for venture capitalists. Food and software companies working with cannabis and CBD can show growth up to 100 times. As a result, last year the legal cannabis market was worth $28 billion, Barclays Bank estimates. Even if everything remains as it is, the market capacity will reach $40 billion by 2028. And if medical use is allowed in Europe and at the federal level in the U.S., it can grow to $55 billion. Such prospects attract investors: in 2018, investment in U.S. startups associated with cannabis more than doubled to $ 881 million, and from early 2019 to May has already reached $1.2 billion, according to the data of Pitchbook.
The backside of the coin
In some U.S. states, products based not only on harmless seeds but also on inflorescences are brought to the shelves of alcoholic beverages. While some brands of drinks (such as Lagunitas Hi-Hops) contain 10 mg of THC, others produce real THC: the level of the psychoactive component can reach 100 mg!
This level of THC will provide the average customer with a range of both pleasant and not very pleasant experiences. There is a legitimate concern: it is possible that the lifting of the federal ban on the use of cannabis will lead to unpredictable (and hardly pleasant) consequences. This does not mean that beer and marijuana liqueurs should be banned immediately. But it wouldn't hurt the producers to adjust their fortress.
Nevertheless, it is worth acknowledging the obvious benefits of such alcohol for cannabis lovers. It will now be possible to use it in a restaurant or cafe, without a smoky room and without frightening others with its characteristic sharp flavor. Of course, weed drinks will be an expensive pleasure, but legal, able to diversify the leisure time of Americans and foreign tourists.